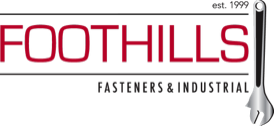 © Foothills Fasteners & Industrial Ltd. 1999-2020

Foothills Fasteners & Industrial Ltd. was founded in 1999 to serve the needs of small to medium businesses who were finding it increasingly
more difficult to find solutions to their requirements. Since then, we have developed strategic alliances with manufacturers and fellow
distributors throughout North America to ensure our clients' needs are met in the most cost-effective and service-oriented manner.
We can have fasteners custom made in any size, and supply fasteners for projects all over North America from our base in Calgary, AB.
In 2008 we joined AD Canada Industrial & Safety , a group of Independant companies across Canada, USA, and Mexico with over 41 Billion in annual sales.
Our goal at Foothills Fasteners is to distinguish our company as customer driven, and a solution provider.